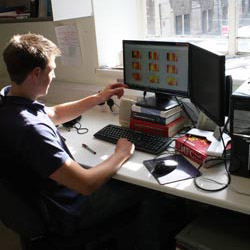 The Department provides an academically stimulating environment in which to carry out the research for your MPhil/PhD. This includes:
Excellent research infrastructure including state of the art equipment, plant growth facilities and IT support in which to perform your research work.
A lively academic environment including seminars and presentations from international scientists, both in plant sciences and other disciplines.
Extensive computer and IT facilities for writing papers as well as your PhD!
A Postgraduate training programme which will develop your knowledge base as well as enhancing your IT and presentation skills. For more information on training opportunities please visit Postgraduate School of Life Sciences website.
Opportunities to apply for funding to attend international scientific conferences.
Yearly competitions for excellence in research, poster presentations and research seminars.
Opportunities for teaching by demonstrating in undergraduate practical classes and carrying out undergraduate supervisions (i.e. tutorials, small group teaching).
Access to an extensive library as well as the Herbarium and Botanic Garden.
The Department also has close links and collaborates with other science Departments in Cambridge as well as with local, national and international industry. A unique feature of studying in Cambridge is that you belong to a College, giving you the opportunity to mingle with students from all disciplines from Architecture to Zoology. Being part of a College also gives you the opportunity to be involved in sports and other social activities, and usually provides some form of accommodation.
Advice for students, offer holders and prospective students at the University and Colleges on novel coronavirus (COVID-19) is available on the University's webpage here. 
The University is continually monitoring latest Public Health England and Government advice about the virus. Latest UK Government advice is available on the Governments' coronavirus webpages.