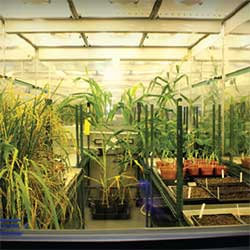 Our research and teaching facilities are excellent following recent rounds of laboratory refurbishment and extensive investment in new equipment.  The new Teaching Laboratory has been built on the ground floor and access for disabled students has been made easier for the laboratory and the lecture theatres.
The dedicated plant growth facility within the Botanic Garden, provides state-of-the-art controlled environment capabilities, and containment facilities for plant pathogen work. There are also both glasshouse and outdoor plots for horticultural and ecological studies.
Plant Sciences is fully equipped for molecular, genetic and biochemical studies, including cell culture, protein overexpression and purification, as well as radioisotope work and we have full access to advanced DNA sequencing technology. There are extensive imaging facilities, including Differential Interference Contrast, fluorescence and confocal microscopes, low light imaging systems suitable for photon counting studies and we have an in situ hybridisation suite. Electrophysiological studies use patch clamp rigs equipped for micromanipulation, ion selective and electrical measurements, microsampling and UV laser ablation work.
Hgh-speed computing facilities support mathematical modelling of plant-pathogen interactions, the epidemiology of disease and 3D imaging of plant development. The Department also houses a 96 core Linux cluster with 40TB of storage running "A Database-Driven, Automated, Pipeline and Tracking System" (ADDAPTS) for analysis of high-throughput DNA sequence data.
Our instrumentation for the analysis of elemental composition, photohormones and metabolites in plants, includes several HPLCs, liquid chromatography-mass spectrometry (LC/MS) and gas chromatographs (GC) and GC/MS. Fluorescence sensors and infrared gas analysers are available for analysis of photosynthesis and gas exchange.
The Departmental Library, contains a large collection of current periodicals and over 20,000 books, as well as support for online access to electronic resources. There are both areas for quiet work, and more informal seating enabling small group discussions. In addition the Cory and Herbarium Library houses an extensive collection of floras and monographs.