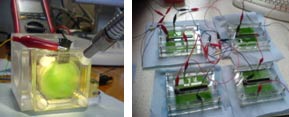 Biological Photovoltaic Cells (BPV)
BPV Cells offer an exciting opportunity to use algae to harvest sunlight and generate electricity.
Algae-powered BPV cells work like a conventional battery.
Sunlight can be captured by algae and used as a source of renewable energy.
Advantages compared to conventional solar panels, these are cheap, green, long lasting, environmentally friendly, and easy to manufacture!