NERC / UF / OTHER
Supervisor: Adam Pellegrini (Plant Sciences)
Importance of work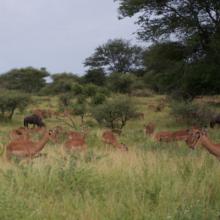 Fires are becoming more frequent in many ecosystems across the globe, with uncertain consequences for plant biodiversity. In many ecosystems, plants benefit from fire, but the occurrence of fire in ecosystems where fire was historically rare is a potential threat to biodiversity. Understanding the response of plant diversity is critical because of its role in a variety of ecosystem processes such as productivity and stability. One hypothesis is that more frequent burning will decrease biodiversity because of higher plant mortality of select species not adapted to fire. The alternative hypothesis is that fire will increase diversity because it disproportionately affects dominant species, allowing for rare and less competitive species to thrive. However, these alternative hypotheses receive mixed support in the literature, with little understanding of the underlying mechanisms. This project will utilize a network of long-term (30-50 years) fire frequency manipulation experiments that are distributed across the globe. The broad geographic scope will allow for the evaluation of mechanisms that may lead to patterns in fire effects on biodiversity across ecosystems.
Project summary
This project will investigate the resilience of plant biodiversity to changes in fire frequency in tropical and temperate savanna ecosystems by sampling plant communities and measuring their physiological traits. Fieldwork will take place in three sites where fire frequency has been experimentally manipulated for >40 years (South Africa, Brazil, and the United States). The fieldwork will sample the plant community to test how diversity responds to different fire frequencies and how the response of species depends on their physiological traits. There will be a data analysis component, analyzing an existing database containing experiments across the globe. The database will be used the evaluate the theory developed from the field experiments and create a formal mathematical framework to link plant traits, fire regime, and plant diversity.  
What the student will do
The project will combine both field and lab work.
Fieldwork: Fieldwork will be carried out in field sites in Kruger National Park (South Africa), Cedar Creek Ecosystem Science Reserve (United States), and Instituto Brasileiro de Geografia e Estatística (Brazil). Time will be spent conducting vegetation measurements in the field and measuring plant traits in both the field and in the lab.
Labwork: Analyses of plant traits will be carried out in the lab using combustion, fiber digestion, and root measurements.
Data analysis and model development: Hypotheses from analyses of the field data will be tested in a larger database to more broadly evaluate how fire affect biodiversity. The data will also be used to parameterize models of plant biodiversity to test existing theories.  
Training to be provided
The student will be trained in field survey and sampling techniques, biogeochemistry and plant physiology (carbon and nutrient measurements in plants, tissue fiber content, root morphology), data science (analyses of the dataset include machine learning methods and structural equation models), and ecosystem modelling (maximum likelihood parameterization of models and analytical techniques). The use of the biodiversity database will also expose them to working in international collaborations.
References
A. F. A. Pellegrini, J. B. Socolar, P. R. Elsen, & X. Giam. 2016. Tradeoffs between savanna woody plant diversity and carbon storage in the Brazilian Cerrado. Global Change Biology 22: 3373-3382.

A. F. A. Pellegrini, L. O. Hedin, A. C. Staver, & N. Govender. 2015. Fire alters ecosystem carbon and nutrients but not plant nutrient stoichiometry or composition in tropical savanna. Ecology 96: 1275-1285.
Applying: To the Cambridge NERC C-CLEAR DTP programme: https://nercdtp.esc.cam.ac.uk/
-->
For details on how to apply to the Cambridge NERC Doctoral Training Partnerships see https://nercdtp.esc.cam.ac.uk/