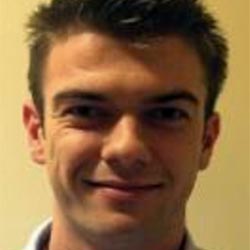 Group: Circadian Signal Transduction
Supervisor: Prof Alex Webb
What were you doing before you started your PhD and why did you decide to apply here?
I was working as a secondary school science teacher which I had been doing for 4 years since graduating in Biochemistry (Toxicology) from the University of Surrey in 2011. During my undergraduate studies I had enjoyed learning about the circadian clock and so when I started looking at possible PhD projects I was drawn to a project that Professor Webb was advertising that would allow me to investigate how the circadian clock interacts with photosynthesis in wheat. Having found a project, I was interested in the decision to apply was made much easier by it being offered here in Cambridge due to both its reputation and how nice a city Cambridge is.
What do you think makes the Department of Plant Sciences a good place to work at?
For me there are two reasons why Plant Sciences is such a good place to work. The first is that the department is full of brilliant researchers with the group leaders being world leaders in their chosen fields. I feel very privileged that I get to work alongside these people on a day-to-day basis. It would be easy for this to make the department feel intimidating but it doesn't because everyone is very friendly and supportive. People are always willing to take the time to help you, share ideas and give feedback on your work which I think is invaluable for PhD students.
What activities do you get involved in during your spare time?
Shortly after arriving I joined a local cricket team which has allowed me to play at new grounds around Cambridgeshire and Huntingdonshire. I also enjoy going to watch Cambridge rugby club, having a drink with friends in the many quaint pubs that make Cambridge feel so homely and going to various talks in college. For such a small city I am constantly surprised by how many things there are to do.