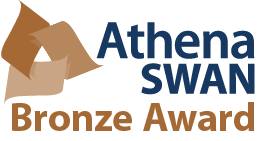 Athena SWAN awards are used by Higher Education Institutions as a rating of best practice in supporting gender equality.
The Department currently holds an Athena SWAN Bronze Award. We were awarded it in 2015 and retained it in 2019.
It demonstrates our continuing commitment to the Athena SWAN principles, as well as our ability to demonstrate the impact of implemented actions.