The Department of Plant Sciences is working to develop high performance LED lighting suitable for growing research-grade plants and algae.
UK Controlled Environment Users' Group - Light Workshop 15/06/2017
The CEUG has been bringing together managers of controlled environments for fifty years. With burgeoning LED technology it is important to share knowledge on experiences and best practice in this area. Martin Howes presented a session titled: 'Energy Efficiency Monitoring & Light' addressing how to go about measuring energy consumption in CE facilities, with an overview of the LED replacement project in the department of Plant Sciences.
The presentation is available here.
A summary Guide is available here.
S-Lab Awards 2017 - Laboratory Environmental Improvement category - Shortlisted
The S-Lab Awards were established in 2012 to create and publicise examples of good practice and innovation that encourage laboratories at universities and elsewhere to improve their performance. The Plant Sciences are honoured to be shortlisted for this international award, with "A Department-led Initiative Reduces Energy Use in Plant Sciences at the University of Cambridge". It's great to be boosting the profile of LED plant growth technology development through the far-reaching S-Lab initiative and the Awards brochure can be found here. 
Green Gown Awards 2016 - Sustainability Professional category - Finalist
For his work leading the delivery of various LED plant growth lighting projects at the Department of Plant Sciences, Martin Howes was a finalist for Sustainability Professional Of The Year at the 2016 Green Gown Awards, presented by the EAUC. Unfortunately, no win this time, but it means a lot to be nationally recognised for our efforts.
S-Lab - Rothamsted Research 07/06/2016
Martin Howes and Dr. Matthew Davey presented a well received session at the Lab-X conference, Rothamsted Research, Harpenden, Hertfordshire sharing knowledge on making labs and research more sustainable. The presentation delivered at Rothamsted can be downloaded here. An overview of our LED work in controlled environments was given, with sections devoted to the results of various plant and algae trials, the energy savings recovered and financial case for change.
Our work on LEDs is now available on Sustainability Exchange!
The Sustainability Exchange is an excellent and ever-growing database of sustainability projects happening all over the world. Have an explore if you're in need of inspiration. The best place to start is obviously our entry, documenting our Highly Commended entry at 2015's Green Gown Awards! 
Green Gown Awards Ceremony 2015 - Research & Development - Highly Commended!
Success in Bristol! On Thursday 26th November, Energy Co-ordinator Martin picked up a Highly Commended award for our LED in Plant Growth project. Collected with the University's Head of Environment & Energy Joanna Chamberlain, it was great to be honoured in a strongly contested group. The outright winner of the group was Lancaster University for its Centre for Global Eco-innovation.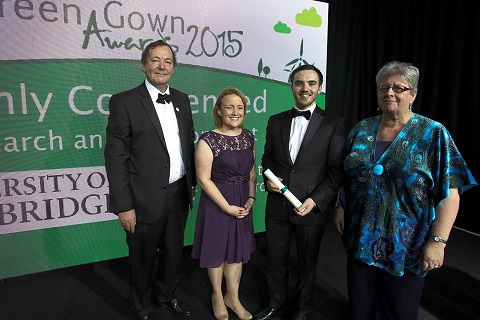 Co-host Iain Patton (Chief Executive of the Environmental Association of Universities & Colleges) said of our work:
"A really neat project, the judges thought, demonstrating the importance of evidence-based intelligent use of LED through mapping optimum wavelength patterns for plant growth. Commercial and research applications offer significant energy cost savings."
See the video below for more information on our project and take a look here for more about the EAUC, the awards and the other winners and finalists.
Green Gown Awards 2015 - Research & Development category - Finalist
 In 2015 the department has been shortlisted for a national award judged by the Environmental Association for Universities and Colleges for its LED development work. This video 'LEDing the way to greener plant growth' has been produced to accompany the entry. It can be viewed near the top of this page. It is hosted on the University's Video & Audio server. Other formats available at http://www.sms.cam.ac.uk/media/2095034
S-Lab conference 08/06/2015
S-Lab is an initiative which supports laboratory improvement through events, assessment tools, benchmarking and networking. Martin Howes presented at the conference held in Cambridge in June. Download the slides from 'LED in Labs - Plant Growth' here: LEDs & Plant Growth Presentation